This is the seventh part of a ten-part blog series, if you missed the first part, read it here. As part of their 50th-anniversary survey GDUSA published a top ten list of the most influential graphic designers working today (amongst other creative professions).
I'm going to work, in reverse order, through these top ten designers and establish just what it is that makes them so damn great and more importantly display some of their best works.
Who is Milton Glaser?
Many experts promote the idea that Glaser personifies American graphic design, his influence and grandeur is immeasurably huge. His work has not only been celebrated in world-renowned national galleries such as the Pompidou in Paris and New York's MoMA, but he has also had entire exhibition halls designated for his work, some of his work, even, forever resides in permanent collections in MoMA, New York; The Israel Museum, Jerusalem; The Chase Manhattan Bank, New York; the National Archive, Smithsonian Institute, Washington, D.C.; Cooper Hewitt National Design Museum, New York and the Victoria and Albert Museum, London.
Milton has also received a long string of awards and accolades, including a National Design Award for Lifetime Achievement from the Cooper-Hewitt National Design Museum. In 2009, he was awarded the National Medal of Arts by President Barack Obama.
If you feel that such grandeur and title based attributes are no match for relatable, memorable and empathetic works, just think of the I ❤️ NY merchandise you see anywhere and everywhere. Yes, someone actually designed that. And while it is a beautiful part of our world just like the grass and the trees, it was forged by human hands and noted as "the most frequently imitated logo design in human history".
Glaser may be regarded in almost god-like omnipotence when it comes to design but like all of us he simply embarked on a journey and it's that journey we're interested in. How do you evolve from mere bodily fluids into a being that changes the shape of its environment and the perceptions of the people around it?; maybe we can find out.
After the standard birth and education bit of life, Milton, as a graduate of New York's Cooper Union for the Advancement of Science and Art and the Academy of Fine Arts in Bologna, founded the world-famous Push Pin Studios with fellow graduates Seymour Chwast, Reynold Ruffins, and Edward Sorel.
Part design and illustration studio, part pop-culture think tank, Push Pin Studios made a phenomenal impact on visual culture from the 1950s to the 1980s, representing an important chapter in postwar graphic design. Its signature publication, The Push Pin Graphic had hundreds of memorable covers and spreads culled from each of the eighty-six inspired and imaginative issues confirming Push Pin's vital role in setting the design curve and influencing the direction of modern visual style.
The Push Pin Graphic is the first comprehensive account of a design milestone that continues to influence designers to this day. An exhibition of Push Pins works "The Push Pin Style" travelled to the Museum of Decorative Arts of the Louvre, as well as cities in Europe, Brazil, and Japan in 1970–72. So ingredient number one in the recipe of design success, if we ignore all that 'human-y' stuff would be great educational accolades followed by founding a massively active, vibrant and eventually successful studio such as Push Pin. Surely this isn't enough though, what's next? Founding New York Magazine, that's what. Experts have described the publication by saying;
"It became the model for city magazines, and stimulated a host of imitations."
Following this Milton along with his colleague Walter Bernard founded WBMG, the New York-based publications company whose work and client base are so extensive, the only way to express its magnitude is to paste the long list of most important works as stated by Glaser's own website:
WBWG are responsible for the complete redesigns of three major newspapers: The Washington Post in the U.S., La Vanguardia in Barcelona, and O Globo in Rio de Janeiro. It has consulted on design projects for The Los Angeles Times, The Boston Globe, The Dallas Times Herald, The East Hampton Star, the New York Daily News and the National Post (Canada).
Magazine clients in the United States include; Time, U.S. News & World Report, Adweek, Brill's Content, Crain's Chicago Business, Family Circle, Golf Digest, The Nation, Autoweek, Biography, USA Weekend, PC Magazine andWine Spectator. WBMG has created original prototype designs for Manhattan, Inc., Windows, The Journal of Art, and ESPN, the Magazine. In Europe, WBMG has developed and created the original format for Alma (a women's service magazine) and Zeus (a cultural newspaper). The firm has redesigned L'Express, Lire (a French literary magazine), Jardin des Modes (women's fashion), L'Espresso in Rome and Business Tokyo in Japan.
WBMG has also designed the American Express Annual Report for three years, as well as several books, including Steve Salmieri's Cadillac and Muhammad Ali: Memories for Rizzoli and ESPN's SportsCentury for Hyperion. Walter and Milton are co-creators of "Our Times", an illustrated history of the 20th century, published in 1995.
And finally, the most important chapter in Glaser's career, the beginning of which is marked by the founding of Milton Glaser, inc. in 1974. Working under his own name has contributed to his legendary status. Milton Glaser, inc. has produced works in almost all fields of design as well as some less expected fields such as environmental interior design, architectural design and product design. Glaser is noted as being personally responsible for a lot of the work put out by the company.
Glaser's graphic and architectural commissions include the logo (which has been described as 'the most frequently imitated logo design in human history'), commissioned by the state of New York in 1976; the design of a 600-foot mural for the New Federal Office Building in Indianapolis in 1974; the complete graphic and decorative programs for the restaurants in the World Trade Center, New York, as well as the design of the Observation Deck and Permanent Exhibition for the Twin Towers of the World Trade Center in 1975.

He has also designed a number of architectural projects including Sesame Place, a children's educational play park in Pennsylvania, 1981-83. For a period of fifteen years, Milton Glaser was involved with the re-design of a principal American supermarket chain, The Grand Union Company, a project that included all the company architecture, interiors, and packaging.

He was responsible for the interior design and concept for the 1987-88 Triennale di Milano International Exhibition in Milan, Italy, on the theme of "World Cities and the Future of the Metropolis". In 1987, Mr. Glaser was responsible for the graphic program of the Rainbow Room complexes for the Rockefeller Center Management Corporation, New York. Also in 1987, he designed the World Health Organization's International AIDS Symbol and poster.

From 1986–1989, he was responsible for the graphic design, theming, and signage for Franklin Mills, a retail mall in Philadelphia, Pennsylvania; and in 1988, he completed the exterior, interior, and all graphic elements of Trattoria dell'Arte, one of several New York restaurants he has designed. In 1990, Milton Glaser, Inc. was responsible for the overall conceptualisation and interior design of New York Unearthed, a museum located in Manhattan's South Street Seaport. In 1993, he designed the logo for Tony Kushner's Pulitzer Prize winning play, Angels in America. The list goes on and on.
You may have noticed, that these articles are based on a survey titled 'most influential designers working today, a fact contributory to Glaser's astounding career and performance. The very duration of his work and influence. Glaser still works today on massively high profile projects including Target Corp and Brooklyn Brewery, Milton, today is 84 years of age, still adding to his ever-expanding portfolio of work spanning almost six decades.
Milton Glaser Posters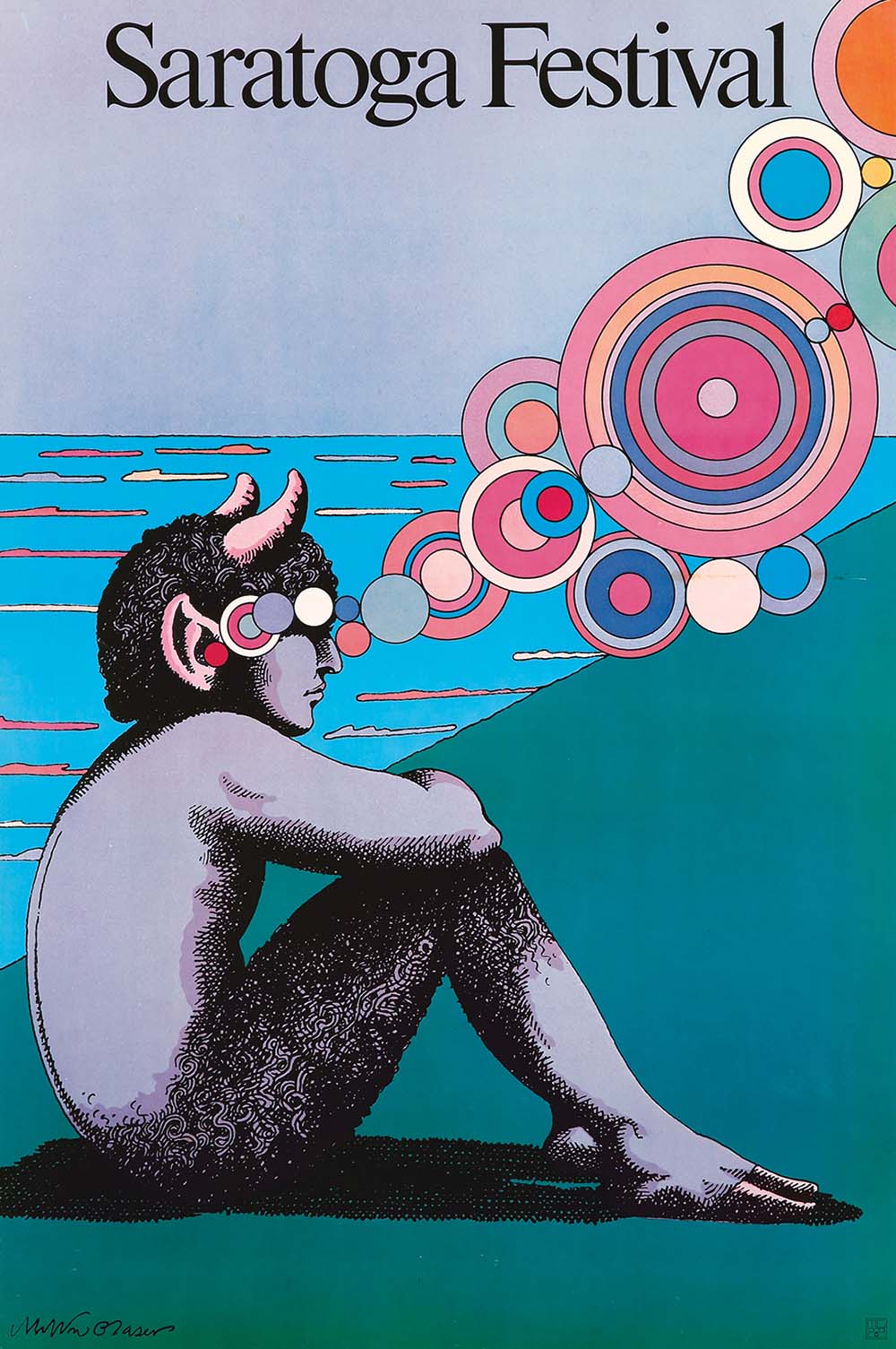 Next week is going to be a difficult one for me, David Carson. All will become apparent.